Skip to product information
Eco Friendly Lint & Pilling Remover for your Fabrics
$12.99
Eco-Friendly Lint & Pilling Remover for your Fabrics - Worried about bobbles on your sweater, coat, couches, chair, or bedsheet? 
Don't be, because this Eco-Friendly Lint Remover shaves all of the fuzz, pills, and lint away.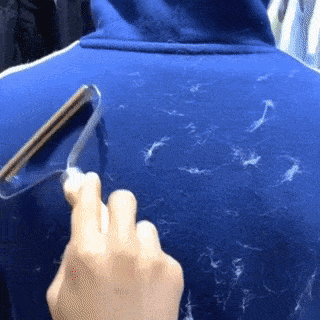 Features:
 ✓  Copper shaver with a wooden handle
 ✓  Removes lint, pet hair, dander, loose threads
 ✓  Effective on sweaters, bedding, upholstery, curtains
 ✓  Make your fabrics brand new now
 ✓  Reusable and eco-friendly, no need for adhesive tapes anymore
 ✓  Portable size: 9 x 5.3 inches
No need to throw away old clothes and bed sheets when you can restore their shine and beauty with this amazing house tool.
Simply roll it over the surface to catch unsightly lint and balls.
Features:

Material: Wooden handle, copper shaver
Eco-friendly: No need for sticky tape or adhesive paper, no refills required like the traditional lint rollers.
High-quality built: The bamboo wood handle and the copper shaver of this pilling remover mean a longer product life.

Effective on: Clothing (coats, woolen garments), beddings, curtains, furniture, car upholstery.
Application: This Bobble Eater removes pet hair, crumbs, lint, and fuzz from surfaces without leaving a sticky residue behind. Restores the brand-new look of your clothes.
Special pill remover for sweaters: Specially designed to remove lint and fuzz from sweaters made of wool, cotton, polyester, or nylon.
Portable: The compact size of the fuzz remover allows it to be easily transportable in a purse and suitcase.

Size: 9 x 5.3 inches
Package includes: 1 x Lint Remover
Free Track Worldwide Shipping for orders over $24!
Our orders are usually processed within 1-3 Days.
Delivery time takes 5-10 Days depending on where you are located
As part of our ongoing sustainability efforts, orders from where they're manufactured. Every air mile we avoid saves 25kg of Co2 from entering the atmosphere.
Perfect Christmas Gift

100% Money - Back Guarantee

24$? Shipping's Free!