Skip to product information
LegS TRAINER™
$29.95
PERFECT COMPLEMENTARY TO TONE YOUR LEGS AT HOME!

Slim Your Thigh without Sweating!
BENEFITS:
✓ Exercise Without Sweat: firm, tone, and strengthen different muscles especially thighs with ease with little and even 0 sweat.
✓ Ton Your Whole Body: Simple but effective fitness equipment that tones thighs, triceps, glutes, hips, and arms.
✓ Compact and Lightweight: much smaller when it is compared with the traditional ones, easy to carry out.
✓ Gentle but Powerful: covered with rubber and foam, making it soft and comfortable on the skin during use - you can enjoy a comfortable and safe workout.
✓ Applicable People: Long-term use can thin legs and reduce thigh fat. Fits all fitness-level people who want to have a physical workout.

Keep your body in good shape!
How long haven't you exercised? You don't have to go out or go to the gym to have a perfect figure at home! Simple but effective fitness equipment, toning for thighs, triceps, hips, and arms, and excellent home gym exerciser.
The LegS Trainer is what you need if you are looking for perfect thigh edges and curves! It can effectively tone your thighs, triceps, buttocks, butt, and arms.
The S-shaped rotating handle design makes it have good elasticity and strong toughness. Allows you to perform a variety of exercises on different parts of your body, easy for you to shape a perfect curve.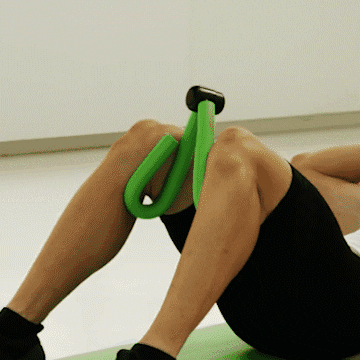 SPECIFICATION: 
Material: Organic foam and METAL high-strength spring
Color: Purple, Light Gray, Red, Blue

PACKAGE INCLUDES:
1 x LegS TRAINER™
TO WORK YOUR THIGHS: 
Step 1: Lie down on your back on a yoga mat.
Step 2: Bend your knees to about a 45-degree position. Your feet should be flat on the floor.
Step 3: Place the thigh toner between your inner thighs. The thigh toner should be positioned so that it looks like an upside-down "V."
Step 4: Squeeze your thighs together. Even if the thigh toner moves in only a couple of inches, you still will be working your thigh muscles. Work to squeeze more forcefully, making the thigh toner move farther inward, as you use the equipment over time.
Step 5: Complete 15 to 20 repetitions. To increase the intensity, perform slow repetitions or pause at the top of the squeezing motion during each repetition.

TO WORK YOUR ARMS AND CHEST: 
Step 1: Grip the handles of the thigh toner with your hands, holding it in front of you. You can sit or stand.
Step 2: Ensure that when you push inward the toner is positioned correctly, so that the middle of the "V" shape pushes outward, not inward toward your chest.
Step 3: Push the handles together while allowing your elbows to move out toward your sides.
Step 4: Complete 15 to 20 repetitions. This exercise will target your chest muscles.
Free Track Worldwide Shipping for orders over $24!
Our orders are usually processed within 1-3 Days.
Delivery time takes 5-10 Days depending on where you are located
As part of our ongoing sustainability efforts, orders from where they're manufactured. Every air mile we avoid saves 25kg of Co2 from entering the atmosphere.
Perfect Christmas Gift

100% Money - Back Guarantee

24$? Shipping's Free!